Handy Backup™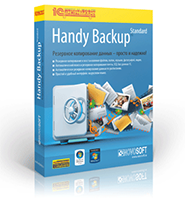 Handy Backup is the reliable, effective and fast backup solution for Windows. It supports automatic backup and restoration of any data type existed, as well as synchronization between files and folders. You can run Handy Backup under Windows 10/8/7/Vista or under Windows Server 2012/2008.
Different editions of Handy Backup
To suit all needs of individual and corporate users, Handy Backup has some different editions, from simplest and quickest to learn to most advanced solutions capable to back up and restore data for an entire network infrastructure.
Handy Backup Standard
The simplest edition can save, restore and synchronize files and folders, libraries, email data and other typical user-level information. It supports many modern storages, from local drives to FTPs to cloud services.
All edition started from a Standard version allow scheduling tasks by an exact time, by a period or by an event, as well as compressing and encrypting backup files. Featured storage plug-ins such as Google Drive backup allow keeping data where a user want.
Learn more Handy Backup Standard
Handy Backup Professional
This edition of Handy Backup has a capability to back up data for advanced users, pros and experts.  It allows creating disk images, backup some databases and more. It also has many advanced options forbackup controlling and data security.
The Professional edition has much more plug-ins than Standard, including a generic Database plug-in and secured FTP backup options. It can also make snapshots of an entire drive, making a bootable disk image in a readable VHD format.
Learn more Handy Backup Professional
Handy Backup Small Server
Designed for server-level data, this edition can back up databases, virtual machines, websites and other big, hot arrays of information. It includes all typical Handy Backup plug-ins just out of the box, including options for databases, virtual machines, cloud services and more other.
Among the database backup plug-ins are dedicated features for MySQL backup as well as MariaDB, PostgreSQL, Oracle, IBM DB2, Lotus Notes backup. The dedicated Hyper-V feature allows backing up entire nodes of Hyper-V virtual machines.
Learn more Handy Backup Small Server
Handy Backup Network
This network-orientededition protects data on a small local network, such as an office network. It can collect, backup and restore data from user machines from just one central management console, controlled by an administrator.
The basic set of features and plug-ins for Handy Backup Network is quite similar to the Professional edition, allowing backing up data from pro-level local machines and office applications, such as Exchange Server backup.
Learn more Handy Backup Network
Handy Backup Server Network
This most advanced and capable solution can back up a large amount of server and user data over a local network of any architecture. Both central and remote components of this solution have capabilities to automate backing up and restoring any data type.
This solution demonstrates especially high efficiency when backing up a complex data infrastructure, including a few servers and some client machines with different tasks, as well as virtual machines such as VirtualBox or VMware.
Learn more Handy Backup Server Network
Please visit our Handy Backup official product website to explore much more information about features, options, advantages and editions of Handy Backup!
Handy Backup English web site

Handy Backup in other languages:
Handy Backup French
Handy Backup Italian
Handy Backup Spanish
Handy Backup German
Handy Backup Russian