Novosoft News Archive 2001-2002

[08.26.2002]
Team from "Novosoft-Zheleznogorsk" center founded under the aegis of USA Department of Energy receives training at Novosoft.

As arranged between USA Department of Energy (DoE) and Novosoft, in the framework of project "Nuclear Cities Initiatives" (NCI), in the period from August 12 to October 12, a group of specialists from "Novosoft-Zheleznogorsk" center is receiving complex training at Novosoft.

The training includes both theoretical studies and practical work in real projects under instructors' supervision, and aims at forming a team of high-qualified specialists capable of organization and implementation of software development projects. Testing and control over knowledge and skills received during the training will be performed both in process and in the end of training.

At the same time, in Zheleznogorsk (former Krasnoyarsk-26), the works on repairing and equipping the office are being performed, so that the team will be able to start work right after coming back from Novosibirsk.

In 2001, "Novosoft" won the tender announced by International center for development of Zheleznogorsk (ICD) and governing body of the program " Nuclear Cities Initiatives" (NCI). In the framework of the project "Novosoft-Zheleznogorsk", the commercial company has been created. The company performs software development for customers from Russia and abroad. The project is effected in the framework of the program "Nuclear Cities Initiatives" (NCI), developed by Fund of Russian-American Economical Cooperation (FRAEC) and Batelle Pacific Northwest National Laboratory (PNNL) with assistance of USA Department of Energy.

[08.15.2002]
"Novosoft" participates in preparation of All-Siberia IT forum.

Administration of President's Plenipotentiary in the Siberian Federal District, "Strategic Developments Center - Siberia" Foundation, Novosibirsk Regional Administration, Siberian Branch of Russian Academy of Sciences, Non-commercial Partnership for Assisting the Development of Information Technologies "SibAcademSoft" hold on October 21-24, 2002 the First Regional Forum "SIBERIAN INDUSTRY OF INFORMATION SYSTEMS".

Goals of the Forum
- Making major directions concerning Siberian IT industry development within the framework of the Development Strategy of Siberia.
- Assessing forms of participation of Siberian industry of information systems in various federal, industrial and regional programs.
- Presenting the technologies and solutions of Siberian IT-companies.
- Enhancing investment infrastructure the information technologies industry.
- Assisting the consolidation of Siberian IT-companies.
The Forum gathers together producers and purchasers of information systems, investors, representatives of Federal Ministries and Departments, as well as Regional Authorities and international political and business stabilishment.

The Forum program features an Exhibition "Siberian Information Systems" and a Conference dedicated to the most important questions of Russian and Siberian IT industry development.

The agenda of the Conference includes plenary and section meetings focusing on the following problems:
- Organizational, methodological and fund-raising mechanisms for developing IT-industry in the regions of Siberian Federal District.
- Hardware and software for automating technological processes.
- Box products - advantages, problems, and perspectives.
- Integrated solutions for corporate business.
- Data transmission systems and networks.
- Educating and training IT-specialists - problems and solutions.
Roundtable discussions will focus on the ways of implementing the Federal Principal Programs in Siberian Federal District. Such programs as "Electronic Russia 2001-2010" and "Comprehensive Educational Information Environment 2001-2005" can be best fulfilled only by a joint effort, so special attention will be given to the problem of consolidation of IT enterprises.

Complete information and on-line registration available on the official web page of the Forum http://www.sbras.ru/ws/SIIS2002

[08.06.2002]
The project for USA Department of Energy (DoE): the 3rd phase comes to an end.

The solution being developed in the framework of the project allows users to considerably simplify analytical work with large data arrays. At present time, the prototype (stand-alone application) has already been developed. This 3rd phase of the project anticipates the development of the full network solution to be finished in autumn.

Two components of the system have been already implemented: Win32 application for processing input data and browser written in Java (stand-alone and applet versions). The chosen architecture enables to create in future the distributed information system intended for analyzing hierarchically structured data.

The development is being performed in the framework of the project "Novosoft-Zheleznogorsk", the offshore programming center founded by company "Novosoft" and International Development Center Zheleznogorsk (IDC). The project is being effected in the framework of program "Nuclear Cities Initiatives" (NCI) elaborated by Fund of Russian-American Economical Cooperation (FRAEC) and Batelle Pacific Northwest National Laboratory (PNNL) with assistance of USA Department of Energy.

[07.30.2002]
"Novosoft" has successfully completed a project for The European Bank of Reconstruction and Development (EBRD).

In accordance with customer's requests, "Novosoft" completed customization of a financial system Platinum SQL in a large lumber company where EBRD is one of the stockholders.

After thouroughly examining company's informational system, experts from Novosoft re-engineered the system, optimizing the internal business-processes and improving functional capabilities. Platinum SQL configuration was modified and integrated with the "bank-client" software application.

[07.25.2002]
A delegation of Korean businessmen visited Novosoft.



At the end of July representatives of largest Korean corporations, interested in cooperation with Russian IT-companies, visited Novosoft. Korean guests visited offices and viewed a presentation about IT Business in Russia. They also discussed opportunities for cooperation between Novosoft and Korean companies. Guests were interested in Novosoft mobile technologies and Novosoft's previous experience in working with Asian companies, Japanese in particular.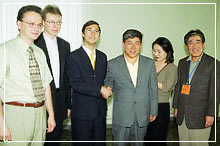 Further negotiations regarding possible collaboration between Novosoft and Korea will be continued.

[07.22.2002]
Representatives of Hyundai Motors Company and Samsung Electronics Co., Ltd will visit Novosoft.

In the context of «The Russia-Korea friendship express‹, a delegation of Korean businessmen and journalists will visit Novosoft. Among them - representatives of largest Korean companies such as Hyundai Motors Company, Samsung Electronics Co., Ltd and LG Industrial Systems Co., Ltd. Also, representatives of some of the most influential Korean mass media will visit Novosoft.

[07.03.2002]
Norilsk Nickel becomes Novosoft client.

After almost a year of negotiations representatives of Novosoft have signed a contract with one of the largest Russian enterprises - Open Joint Stock Company Mining and Metallurgical Company Norilsk Nickel.

Novosoft is now fulfilling the first stage of the project - developing technical and economical specifications for creating a comprehensive resource management system for Norilsk Nickel - Automated Metrological Measurements System.

[07.02.2002]
Representatives of largest Japanese companies and banks visit Novosoft.

In July Novosoft hosted a delegation of Japanese businessmen and officials, among which were representatives of Mitsubishi Corp., Mitsubishi Heavy Industry, Marubeni Corp., Tokyo Boeki, Nissho Iwai, Mitsui and Co., heads of Japan Bank for International Cooperation in Russia, and officials from Japanese Embassy.
During the visit guests met with Novosoft top management, learned about Novosoft's experience in working on Japanese market, and discussed the perspectives of a wider cooperation between Novosoft and Japan.
Summarizing the feelings of the delegates, one of guests said that Novosoft has left the biggest impression on their visit to the city of Novosibirsk. The guests were very pleased to find specialists from Japan among Novosoft employees, and expressed their confidence regarding Novosoft success on Japanese market.

[06.19.2002]
Novosoft at Russian Software Outsourcing Summit 2002

Novosoft delegation took an active part in Second International Software Outsourcing Summit that took part in St. Petersburg on June 5-9, 2002. The purpose of the Conference was to discuss possibilities and advantages of outsourcing software development to Russia and to demonstrate potential of the Russian offshore software development cluster to Western customers. Nearly 500 representatives of more than 200 companies and associations participated in this Forum that reflects the current situation in this sphere in Russia.

Novosoft delegation presented company's business development strategy for changing market conditions in a section "Successful Models of Export-Oriented Russian IT Companies". Also, Novosoft presented Novosoft-Zheleznogorsk Software Development Center at the round table "Russian Nuclear Scientists in the Software Market: Unique Opportunities and Challenges" organized by the U.S. Department of Energy/National Nuclear Security Administration's Nuclear Cities Initiative (NCI). The project received much attention of the professional audience and media, and was dubbed as one of the most successful.

Novosoft delegation took part in other sections of the Forum, and has met many potential partners.

[06.03.2002]
Novosoft 10th anniversary.

In the end of May, 2002 Novosoft celebrated the 10th anniversary of its business. This was a decade of dramatic changes in IT environment of the world and the development of Novosoft followed the pace of information revolution.
From a group of four ambitious young programmers Novosoft grew to an international IT company with an impressive portfolio of over 400 successful solutions recognized on a regional and international level as an important force in the IT industry. Major advantage of Novosoft - the one the company has been keenly developing through 10 years of its growth - stems from combining the cutting edge IT and advanced business management practices with the innovative potential of its specialists - product of one of world's intellectual centers.
Novosoft has partnerships and provides IT services for world leading IT corporations, large and small companies operating in a variety of industries. Also, among our clients are US government institutions and US Department of Energy became our partner in creating Novosoft-Zheleznogorsk Software Development Center.
The company also works on European, Japanese markets and explores the fast-growing Russian market, applying its experience and knowledge to provide full cycle of IT services - from consulting to developing the solution, providing support and training the customers personnel.
After 10 years on an international markets Novosoft is still at the beginning of it's way of translating the experience and knowledge into solutions that employ all the power of cutting edge IT for the benefit of the Customer.

[04.23.2002]
Novosoft is included into Siberian Federal District IT Expert Council.

First meeting of the Expert Council at President's Plenipotentiary office in Siberian Federal District was held in Novosibirsk on April 18. The Council is to analyze current trends in Russian and world IT, set the goals and stages for developing the IT and communication technologies in the region, and work out the program for integrating the Siberian region into the comprehensive Electronic Russia program.

[04.15.2002]
Jyllands-Posten writes about Novosoft.



[02.27.2002]
Novosoft joins INFORUS Consortium.

On February 27, 2002 Novosoft joined INFORUS consortium uniting the leading Russian IT companies. INFORUS specializes in offshore programming and developing innovatory software products for international markets and joining the consortium is only possible for companies having real export potential.
United efforts provide for an excellent range of services that is being offered to our clients on the basis of up-to-date achievements of Russian science in the field of high technologies.

[03.01.2002]
Novosoft becomes "The Maecenas of the Year".

"The Maecenas of the Year" contest is supported by Novosibirsk Region Administration, Inter-regional Public Foundation "Siberian Civic Initiatives Support Center", Novosibirsk Branch of Open Society Institute, and Non-Commercial Partnership "Parents' House".
Novosoft was named "The Maecenas of the Year" in recognition of its contribution in the development of higher education. The company played an important part in initiating, developing, and supporting the Faculty of Information Technologies at Novosibirsk State University.
Supporting and realizing socially important initiatives is a part of Novosoft's strategy of development and a basis for open and mutually beneficial cooperation of business, public and educational organizations, and regional authorities.

[10.16.2001]
On October, 19 Novosoft LLC. was awarded IBM Premier Partner status within the framework of PartnerWorld for Software program.
The highest level of partnership means not only recognition of Novosoft's excellence but also an ever-greater range of possibilities for our customers around the world. It will allow Novosoft to bring its work to a new level, offering the best prices on a range of IBM products, highly efficient and reliable information systems on the basis of IBM technologies, comprehensive technical support and training.
Learn more about PartnerWorld for Software program.

[08.29.2001]
In August, 29 Novosoft web site was qualified to use the IBM e-business Mark Logo.

The e-business Mark is intended to mean that a site is conducting e-business, is using IBM products or services, and that these products and services can be used to help make the site more reliable, scalable or secure. For more info, please visit
http://www-1.ibm.com

[03.20.2001]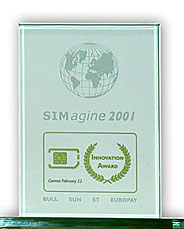 Novosoft, Inc. today announced that it won the SIMagine Innovation Award at the 3_d GSM World Congress in Cannes, France as a result of the company's participation in the 2001 Worldwide GSM and Java Card Developers Contest.
The 3_d GSM World Congress was the largest international gathering of leading mobile telephony providers, hardware manufacturers, and software development companies specializing in wireless communication to date. The Congress included the culmination of the SIMagine 2001, Worldwide GSM and Java Card Developers Contest, which was organized to promote a wide range of wireless communication services offered by GSM providers. The Global System for Mobile Communications (GSM) is the international roaming standard for wireless phones and has more than 452 million users in 160 countries accounting for approximately 70 percent of the world market.

The Worldwide GSM and Java Card Developers Contest was organized by industry leaders Bull (www.bull.net) and Sun Microsystems (www.sun.com). Out of 134 initial candidates representing 30 countries of the world, 60 were chosen to participate in the contest. Only ten finalists were selected to take part in the awards ceremony, which occurred on February 22, 2001 in the Majestic Hotel in Cannes. With most of the ten finalists being from Europe, Novosoft was the only Russian company included among them. "This award demonstrates the quality of our Russian programmers and attests to the potential of the software industry in Novosibirsk, which is rapidly gaining world recognition as the 'Silicon Taiga'" said Novosoft's CEO Sergey Kovalyov.

Novosoft presented two advanced wireless solutions in the contest: Remote Control and Mobile Instant Messenger. Both of the solutions won acclaim from the leading manufacturers of telecom equipment and software represented in the conference.

Remote Control Application allows users of GSM phones to monitor a wide range of network-connected devices, from home appliances to industrial equipment. Since Novosoft's solution operates through wireless phone networks it is works over greater distances than other remote control applications based on Bluetooth, HomeRF, or Jini. In turn, it provides a low-cost, efficient way to control connected devices and to check their status from almost any location.

Mobile Instant Messenger allows owners of regular GSM handsets to access ICQ, AOL, or MSN instant messengers, or any other messaging network without having to directly connect to the Internet. Users can send and receive messages, create and modify contact lists, see the status of online users, access message histories, and do many other tasks as well.

Both of Novosoft's solutions provide competitive, value-added services that will be of use to many GSM operators worldwide. Remote Control opens new horizons for manufacturers of network-controlled equipment to increase the value of their products and services. Mobile Instant Messenger will appeal to the multitude of Internet messaging service users - over 100,000,000 people worldwide - and to the users of GSM Short Message Service (SMS).

For more information on Novosoft's involvement in the SIMagine 2001 event, please contact Vitaly Soukhovsky or Andrey Deriabin via phone +7 (383) 339-53-68 or 333-37-96 or email sales@novosoft-us.com

[03.13.2001]
Links to Novosoft UML and FL solutions were published on Object by Design, Inc web-site (www.objectsbydesign.com/tools/umltools_byCompany.html). This site is dedicated to providing visitors with valuable information about the world of object-oriented design and programming. Novosoft's solutions were rated highly by Object by Design, Inc. Novosoft is actively working on developing and improving our own object-oriented solutions. Soon Novosoft will unveil its Prototype Builder, which is based on Novosoft's object-oriented technologies. The Prototype Builder will be a valuable solution for start-up companies that desire quick and cost-effective integration of ideas into evolving software prototypes.

[02.14.2001]
Novosoft has been selected to take part in the SIMAGINE 2001, WORLDWIDE GSM & JAVA CARD DEVELOPER CONTEST! Bull, Sun Microsystems, and a number of other major players in the GSM and IT market are sponsoring the competition. The goal of the contest is the development of an application for JavaCard compliant GSM SIM cards. Novosoft's team is to participate in the competition against 41 other teams, all of which were selected from 110 entrants in the "company or independent" category of the contest. These teams have until January 31, 2001 to complete and submit their JavaCard applications. The winners of the competition will be announced at an Awards Gala in Cannes, France on Feb 22, 2001 and can receive up to 25, 000 Euros for first place.
SIM card technology allows GSM operators to deploy new services quickly and easily through the creation of applets and server applications in the Java programming language. After a GSM operator makes such an application available to their phone-network users, the users only need to download and install the applet in order to take advantage of the new services. Now there are no more hassles with proprietary standards or phone incompatibility! Novosoft's support of the development of GSM/JAVA SIM card technology shows the firm's commitment to the furtherance of emerging technologies.

[02.14.2001]
Novosoft expands to Japanese market. After first positive experience of work with Japanese companies, Novosoft tries to facilitate the mutual comprehension with Japanese customers. Since we strongly believe that mutual comprehension with customers is the crucial point of successful relationships in sphere of productive software development, company has created its web presentation in Japanese pressing towards entering the Japanese marketplace. Japanese version here:


[11.01.2000]
Novosoft has launched an internal project to create Extranet secure accounts that allow our customers to control and to participate in the project management process; to monitor the evolution of their projects, to post messages, to send requests and to view the status of these requests, to transfer/download files, and to chat with our sales/marketing/service representatives.