Novosoft Office Backup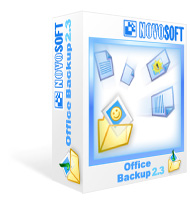 Novosoft Office Backup is a usable and reliable backup software designed for backupping and restoring your documents and important files.
Novosoft Office Backup is designed to work with just about any type of storage media, including: CD-R/RW, DVD-R/RW, HD-DVD, Blu-Ray media; SFTP or remote FTP servers; local network drives; ZIP, JAZ, MO; USB-flash; HDD and floppy disks.
Automatic backup of most frequently used applications: Outlook, ICQ, AOL IM, registry, etc. Email backup via POP3 directly from the mail server. If you are looking for a simple yet powerful backup utility, you have just found it - Novosoft Office Backup.
Benefits
With Novosoft Office Backup you can easily keep all important files synchronized between servers, desktops, laptops, LANs, ZIP disks, secondary hard disks, etc.;
It helps you to protect your business from risks associated with loss of valuable data;
Guaranteed technical support.
Key Features
Support for different types of backup storage;
Backup of email messages directly from the mail server;
Outlook backup;
Windows-based flexible interface;
Integrated ZIP compression;
128 bit encryption;
Free backup plugins;
Flexible and powerful scheduler;
Flexible file and folder selection criteria;
Multi-threaded transfer engine.
Novosoft Office Backup Web Site